Educated or not, some our ancestors when given an opportunity, displayed innovative, entrepreneurial and artistic abilities. The following was submitted by Kay Marino and her sister Rose Gemus both daughter's of Francesco Galioto. Both Kay and Rose are fifth cousins of mine. Kay and Rose were most helpful in my research
Francesco emigrated with his parents to Pittsburgh, PA via Ellis Island around 1908. Francesco was a gifted writer. He often was asked to write editorials for the Italian-American Newspaper in Pittsburgh, PA.

The following is one of the essay's he wrote that expressed his deep feelings for Sant' Elia.

AL MIO PAESELLO LONTANO

Io ti ricordo ridente paesello
tra rocce pittoresche in riva al mare
cinto dalla campagna tutta verde
fertile di frutteti e antichi ulivi.

E penso sempre le barchette belle
dei pescatori il suo canto giulivo
facevan vela verso l'imbrunire
con fede religiosa di pescare.

Dolce ricordo e la bianca Chiesina
dove ho imparato ad essere bravo
quando fanciullo apprendevo dottrina
'dove devoto il pescator s'inchina

Ricordo le tue piccole casette
allo spuntar del sol viste dal mare
protette dai due monti nominati
di Catalfano e Monte Zafferano.

Il nome che in Sicilia a te si diede
E del profeta Elia alta la fede
piccol gioiello in mezzo a due gran gemme
del golfo incantato Termine e Palermo.

Sento la nostalgia per te, mio paesello
dolce ricordo dove io son nato
Io sogno di raggiungerti un bel giorno
Sospiro sempre per te, S' Elia bello.
(Francesco Galioto)
1895-1977

In translation, the essay loses much of the deep feelings of the original writing. Translated Francesco was expressing:

TO MY DISTANT VILLAGE

I have fond memories of my beautiful village
between colorful cliffs and the river running to the sea,
which encircled the fertile green countryside of fruit and olive orchards

I recall the beautiful small fishing boats
and the fishermen singing their merry songs
while they sailed towards the twilight with religious faith to fish.

Sweet memories of the little white church where I learned the good ways
as a child while watching the devout fishermen as they knelt and prayed.

I recall the small cottages as seen at sunrise from the sea
protected by the mountains Catalfano and Zafferano.

The name that was given to you in Sicily, honoring the great prophet Elia,
the little jewel situated between the two enchanted gems,
the Gulf's of Termine and Palermo

I have fond memories of you, my sweet village where I was
born, I dream of returning some beautiful day,
I long for you always, my beautiful S' Elia.

(Francesco Galioto)
1895 - 1977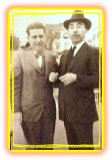 Gaetano with his mentor Professor Alberto Torres Fuster
Another situation involves Gaetano Busalacchi who was born in 1886. Gaetano was the Uncle of the submitter, Andrea (Andrew) Busalacchi. Andrew is my third cousin once removed. I became acquainted with Andrew and his family via the internet. Although I have yet to meet Andrew in person, we have grown close over the years he being a distant relative, fellow researcher and good friend.
"Gaetano (aka Tom) Busalacchi was born in Sant Elia, Sicily on April 27, 1887 and died in Rome, Italy in 1967. He is better known for his portraits and landscapes in oil and pastel, but Busalacchi was also an accomplished sculptor and teacher. At age eleven, he arrived at the Port of New York with his parents and then they settled in Milwaukee, WI. In 1915 he was living at 922 Oakland Avenue in Milwaukee.

Busalacchi studied in Florence, Italy for three years under 20th century Mexican artist Professor Alberto Torres Fuster; in Milwaukee at the
Wisconsin School of Art under Alexander Mueller (1872-1935); and portraiture in Rome, Italy with Professor Mancini (possibly Antonio, 1852-1930) who, in 1915, was considered the greatest living portrait painter.

According to Janet Treacy's "A Place In History", an article on the web site of the West Bend Art Museum, Gaetano Busalacchi participated in the first exhibit of Wisconsin Painters and Sculptors (WP&S) held at the Milwaukee Art Society in March of1914 but, in the 1915 edition of Who's Who in American Art, he took the first place prize at the Milwaukee Art Institute for the Wisconsin Painters and Sculptors in 1912. He also exhibited at the Academy of Art in Florence; the Art Institute of Chicago in 1914; the National Academy in New York City; and the Art Institute of St. Paul in Minnesota.

Several of Busalacchi's paintings are on display at the Italian Cultural Center in Milwaukee, WI. An Impressionistic oil portrait of his father, Andrea Busalacchi (1843-1922), painted between 1917 and 1920 in the back yard of 3302 North Oakland Avenue in Milwaukee, has remained in the family collection. "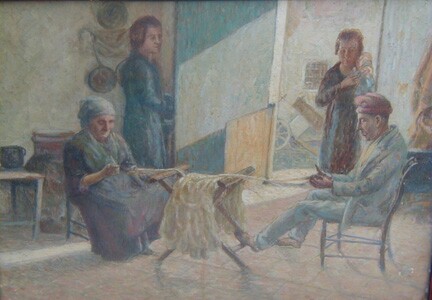 A family mending fishing nets.
This reportedly, was painted in Sant' Elia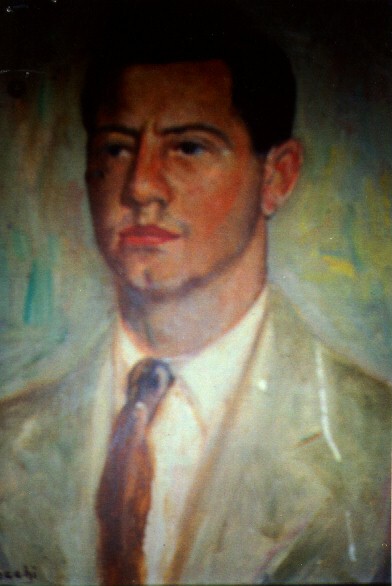 Portrait of Andrea Busalacchi
Painted in E. Boston, MA Circa 1947


Andrea Busalacchi (1843-1922)

While not in the arts, other "Sant' Elioti" became successful entrepreneurs. Many settled in California and resumed their vocation of fishing. Some rose to the next level and founded or bought fish processing facilities, providing employment for many people. As an example, the following was submitted by Michael Machi about his grandfather . Michael is both a 5th cousin and a 5th cousin once removed, a fellow researcher whom I have collaborated with and friend I originally met on the internet.
The following is an excerpt taken from The Redwood Record, Garberville, California that appeared in the summer of 1966:

"...Pietro came to the United States in 1890 at the age of 13 with his father. They arrived in New York, sailed to New Orleans and traveled west by train. In San Francisco, they joined his uncle Antoni Bellonti (Bellanti?) who operated a fish market on Clay Street. He came from a long line of sea faring men. His father was a fisherman in his youth, then sailed with the Italian Navy and later was a merchant seaman. His grandfather and other men in the family were also fishermen.
His first fishing experience was on the Sacramento River at the age of 14 with his father. After eight seasons they moved north to Alaska for two years. Here a season's salmon catch would bring them $550.00. This was considered a tremendous amount in those days.
Pietro's father went back to Italy (Sant' Elia, Sicily) to bring back his mother, brother and sister to the United states.
Eventually, "Pop" (as he was often affectionately referred to) recalled, almost the entire village of 350 came to the U. S., most of them to the bay area.
At the age of 25, after a three year hitch in the Italian Navy, "Pop" returned to San Francisco and went to work for uncle Antoni Bellonti in his fish market for a weekly salary of $10.00, and eventually $15.00.
In 1905 when he became a U. S. citizen, he went back to Italy (Sant' Elia) and married Nunzia (later called Sarah) Alioto. He returned to San Francisco alone in 1908 and went to work for the Western Fish Company.....
That same year Pop's wife and eight month old daughter Rose, and father and mother came to San Francisco.
It was about this time that Machi (Pop), Joe Alioto (relative of Mrs. Machi), and Tony Trappani (a drag boat operator) formed a partnership and the "San Francisco International Fish Company" was born.......
International eventually joined with the Western Fish Company and then in 1915 broke away. This was an era of growth.
Starting with a new drag boat the company fished and opened several branches for their wholesale fish business along the north coast. They eventually had branches at Santa Cruz, Monterey, Capitola, Pittsburg, Martinez, Eureka and Fort Bragg. The Fort Bragg operation is now operated as the Paladini Fish Company. A total of about 50 men were employed.
In the late 1920s the company bought a building at 535-539 Washington St., San Francisco for $30,000. and spent $90,000. remodeling it, installing a modern cold storage plant and putting in a fish market......
The new fish market was on the edge of Chinatown.....
At this point Pop's powers of recall were particularly good as he reminisced about this colorful period of San Francisco history.
This was the period when the Chinese wore queues and engaged in Tong wars in the narrow, forbidding alley ways.........
What is now Fisherman's Wharf, a tourist mecca of colorful souvenir shops, plush restaurants, sidewalk crab and shrimp stands, was in the early 1900s, when the International Fish Company was first started, only the mooring place for fishing boats. A few crab pots operated for the local trade. There were warehouses along the wharf, some storing Tan Oak Bark which was used to dye fish nets to keep them from rotting in the salt water.
To the best of Machi's recollection, the first cocktail stand on the wharf was started by a cousin, Frank Bellonti (Bellanti?). He later added a restaurant, also the first for the wharf.......
The present famous Alioto's Restaurant was started in the days prior to 1920 by Nunzio Alioto, a cousin of Mrs. Machi. It is now operated by two sons, Mario and Frank.
The Lazio Fish Company in Eureka was started by Tom Lazio, an early member of the International Fish Company. Mrs. Lazio was a cousin of Mrs. Machi and was a member of the Alioto family.
Frank Alioto, another family member, is associated with the Alioto Fish Company in San Francisco.
Pop's interest in and association with Shelter Cove started in 1925 when the San Francisco International Fish Company, Paladini Fish Company and Western Fish Company formed the Northern California Fisheries and bought the Shelter Cove property.
The new company built and operated a fish receiving and processing plant. A wharf was already there. It had been built in the 1880s for the loading and unloading of freight and passengers. In 1928, International Fish Company, with which Pop was still associated, bought out the interests of the other two companies and continued to operate at Shelter Cove.
During the peak of the season, Pop recalls, as many as 15 men were employed at the processing plant and upwards of 300 boats would be anchored in the cove. Forty to fifty thousand pounds of fish per day were processed........
During the early 1930s, Pops 3 sons, Mario, Tony and Babe, along with relatives of other stock holders worked at Shelter Cove during the summer months.
In 1946 the International Fish Company was dissolved and the property reverted to the company attorney.
In 1946 the three Machi Brothers returned after World War II and purchased the property.......
(It was turned into a sport fishing area in 1948.)"

Most of our people that wanted to pursue their vocation of fishing settled in California, where the weather and fishing conditions were quite similar to what they were accustomed to in Sant' Elia, Sicily. Some of the heartier souls settled on the East coast and fished the cold and sometimes cruel Atlantic Ocean. Such was the case of the brothers Antonio (1883-1947) and Gaetano (1886-1972) Busalacchi.
Following an age-old tradition that spanned generations, Antonio became a "Pescatore" or fisherman at an early age. On March 25, 1897, at the tender age of 14, he was certified as a fisherman by the Captain of the Port of Palermo.
With funds sent by his father Francesco, who had preceded him to America in June 1896, Antonio at age 15 arrived in the Port of New York on May 26, 1898 on the vessel "Werra". He then joined his father in selling limes and oranges to ships sailing out of the Port of Boston.
After scrimping and saving for about a year, Francesco and Antonio sent for the remainder of the family who arrived in the Port of New York, January 8, 1899 on board the vessel "Britannia". Among the children was Gaetano, who at the time was 13 years old. Gaetano joined his father and brother in selling fresh fruit to the ships sailing out of the Port of Boston during the winter and commercial fishing during the summer.
Initially, they worked on boats that were referred to as "Guinea Hookers". There was a fleet of these located on "T Wharf" in Boston Harbor. Most of the people working on these boats were from Sant' Elia. The boats were about 35' long, powered by gasoline engines, with no utilities on board, no heat, water or toilet facilities. The deck was cleared of anything other than barrels cut in half that held coils of rope to which were attached large fishhooks. Before being placed over board these hooks were loaded with bait.
These boats would go out to sea mid-day and when they arrived to the fishing area they would bait the hooks and place the coils of rope overboard. They would stay out all night (no sleeping quarters aboard) and haul in the lines in the morning. The fish from this type of operation were considered the freshest fish one could buy on the market; in fact some of the fish were still alive when the boats arrived on shore.
These boats were extremely dangerous to be around. If you entered the engine room without clearing the air of gas fumes, it could be lethal.
On July 8, 1929, Francesco Tarantino, who was married to Giuseppa Busalacchi, the writers Aunt, went down to the pier with his two sons Frank and Guy to prepare his boat to go fishing. Francesco was carrying a kerosene lantern and he neglected to clear the engine room of fumes. The boat exploded and was completely destroyed. Francesco was killed and his two sons were injured.
After the death of their father, Francesco, in August 1905, Antonio and Gaetano opened their first fish processing plant, operating under the name of "T & J Busalacchi and Sons, Inc" on "T" Wharf. The writer could recall his father, "Capt. Tony" and uncle "Jack" working 24 hours a day. He further recalls his mother and Aunt Katie bringing down food .to them regardless of weather. As a young boy, the writer could hardly recall seeing his father at home. Sometime between 1910 - 1917 the business was moved to 270 Northern Ave., Boston, Massachusetts.
By 1915, Antonio was known as "Captain Tony" and Gaetano as "Jack" in the trade. It was at this time that they started weir (trap) fishing on Cape Cod, Massachusetts. They built a fish house at the entrance to "Herring River" Harwich, Massachusetts and another on "West Dennis Beach", West Dennis, Massachusetts. This operation, run by "Capt. Tony", was open from April to October each year. The brothers also owned an icehouse located on "Plashes Pond", Dennis Port, Massachusetts. Capt. Tony kept his fishermen working during the "off" winter season, sawing ice blocks from the pond and storing it in the icehouse to be used to pack the fish during fishing season.
In 1918, they purchased their first vessel "Mayo First" which was used for in shore fishing for baitfish, Mackerel and Squid. She was abandoned February 1938.
The second vessel purchased was a USN Submarine Chaser -SC-130, commissioned in 1917 that saw service during WWI off the coast of France and in the Mediterranean Sea. She was converted to a fishing dragger and named "Alert" by a prior owner and in 1925 was sold to "T & J Busalacchi and Sons, Inc." She was105' from stem to stern with a beam of 15' and a draft of 8' and carried a crew of 12. Her area of fishing was from the coast of New Jersey to the Gulf of Maine. In April 1929 the "Alert" founded and sank at Highland Light, New Jersey. Six crewmen were aboard, no loss of life.
The third vessel they purchased was the "Rita B." (named after the daughter of Gaetano "Jack" Busalacchi.) She was built in about 1928, carried a crew of 17 and was 87 feet long. She was owned by "Capt. Tony" and "Jack" until 1943 at which time she was sold. While in service she fished in the "Grand Banks" off the coast of Canada, a fourteen-day trip. Four days travel from and to Boston, Massachusetts with ten days of fishing. She also fished in "Georges Bank" off the coast of Massachusetts. This trip entailed ten days, two days travel with eight days fishing.
Both "Capt. Tony" and "Jack" sold their business and retired in 1943.
There is a Memorial, located on West Dennis Beach, in memory of "Captain Tony" and "Jack" for land they donated to the town of Dennis, Massachusetts.
Donated by "Capt. Tony's" son,
Andrea "Andrew" Busalacchi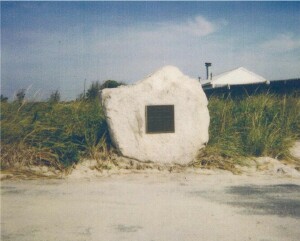 Memorial to Capt. Tony and Jack Busalacchi
West Dennis Beach, Town. Of Dennis, Massachusetts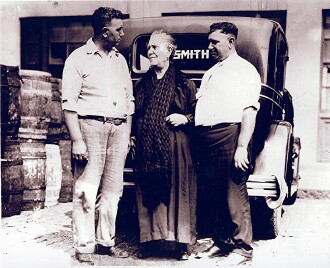 Left to Right "Jack" Busalacchi, Pietra (neeTarantino) Busalacchi (Mother) and
Capt.Tony Busalacchi Taken on the Boston Pier the day the "Rita B." was christened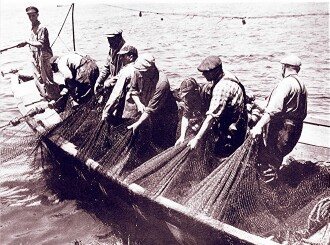 Pulling in the net from a "Weir" (Trap) off the mouth of the Herring River, Harwich,
Massachusetts, Cape Cod. Antonio "Capt. Tony" Busalacchi is on the right

Some of us have been fortunate to have heard the beautiful, true Sicilian Language spoken by our parents and/or grandparents. It was our parents or grandparents that immigrated to the United States in the late 1800's or early 1900's. Subsequent to that period, Italian was introduced in the Sicilian schools and the true Sicilian Language was spoken only at home. However, as subsequent generations came along, the language slowly slipped into obscurity.
As it generally worked out, the first generation born in the United States to those who came here as late as the mass migration from southern Italy and Sicily in the late 1800's, usually were bi-lingual, Sicilian and English. Often, out of necessity, this generation acted as translators and interpreters for their parents.
With the second generation born in the United States, their parents may have spoken Sicilian at home occasionally, but not enough for the language to have registered completely. The real exposure came at each visit to Grandpa and Grandma's house. However, it generally was common practice for the conversation to take two different avenues. At this point in time, our grandparents had learned enough English to understand it, but yet, they were not articulate enough to comfortably speak it. Conversely, those of the second generation were exposed enough to understand Sicilian, but really were not comfortable enough to speak it. Thus, the conversations took on the two languages. The grandparents spoke in Sicilian that was totally understood by the second generation, and the second generation replied in English that was totally understood by the grandparents. The writer is of this generation, and deeply regrets that, as a child, he was not instructed to reply in Sicilian. As a result, although the writer can somewhat speak Sicilian today, he has great difficulty structuring sentences.
With the third generation born in the United States, the Sicilian language is totally lost, because the generation that immigrated to the United States has all passed away and the language is no longer spoken at home by their parents, the second generation.
For the benefit of the third generation and the generations to follow, who would like to hear true Sicilian, we have appended sound clips of songs that were recorded in traditional Sicilian by a Francesco San Filippo.
Francesco San Filippo (1882-1964) and his wife the former Grazia Aiello (1884-1978) were born in Porticello and Teracini, respectively, in the Province of Palermo, Sicily. They immigrated to the United States with their two oldest children to Chicago, Illinois where their next three children were born. Ultimately, they settled in Martinez, California. They had ten children in all. Francesco was a "Pescatore" in Sicily and continued his vocation as a fisherman in Martinez.
In the mid 1930's, during the "Great Depression", Francesco was recorded singing songs in Sicilian under a Works Progress Administration (WPA) project. These recordings are on file at the Library of Congress.

If you would like to hear Francesco singing, click here

to get to the audio page